Feel free to download clean planning templates in English or in Ukrainian here.
In this post I'll gladly share with you planning templates that I developed for myself in 2021. These templates really helped me to go through mad 2022 and even get a lot of shit done. I decided to share my development because I believe there are a lot of people in the world who are in search for a perfect planning model. And I'm here to suggest one of the planning solutions.
First of all, I want to emphasize that THERE ARE NO UNIQUE PERFECT PLANNING TEMPLATES. The way you prefer to plan depends on your type of personality a lot. Therefore, what is perfect for me may not be perfect for you. If you've already tried to use enormous amount of planners, bullet journals or apps and you still experience difficulties with time management, I recommend continue searching for *your* planning tool. Or develop it yourself.
FOR WHAT TYPE OF PEOPLE MY PLANNING TEMPLATES WILL BE USEFUL TO?
the ones who like handwriting
the ones who prefer visualize information in blocks and schemes
the ones who seek for finding a pattern in their daily activity and developing daily routine
the ones who enjoy self-analysis and self-reflection
WHY MY PLANNING TEMPLATES ARE GREAT?
they are undated
they are minimalistic
they are designed to be a perfect tool for flexible planning
they are free (you can download them, print and use for your own good)
every template is designed as a page spread (which is very convenient especially for weekly planning when you can see the whole week at a glance)
Before I'll jump into a presentation, I'd like to mention that personally I combine online and offline time / project management tools. For strategy planning and global ideas and projects I use Notion (it's not an ad). Daily, weekly and monthly planning I prefer to do in a physical diary. I also prefer to use a paper diary for summarizing what I have done during a day, a week and a month. Yearly summary I prefer to do and keep online.
Here I'm about to show you an example how you may fill my super convenient and lovely templates 🙂 (at least, how I do that)
MONTHLY PLANNING TEMPLATE
A left-hand page of my monthly planning templates is divided into 5 blocks which are supposed to help in sorting tasks you need to do by areas of your life (work, family, education, health etc). You are free to define whatever areas you need. You may change these areas every month, if you need so.
A right-hand page is basically an empty page where you can write whatever you want. Personally I use this page for writing down tasks and ideas that come to my mind in the middle of the month. Instead of trying to include new tasks in the current month, I'll just put them in a list and book time for them next month (or discard them). Such approach helps me to get new ideas out of my mind without forgetting them.
Also you may notice numbers from 1 to 31 on the right-hand page. These numbers are dates of the month. I like to see them all at once and cross out every day. This way I can feel "a timeline" of the month. I also like color coding. You may see me using different color for each area of my life. Color coding helps me to see how balanced (but mostly unbalanced) my life is.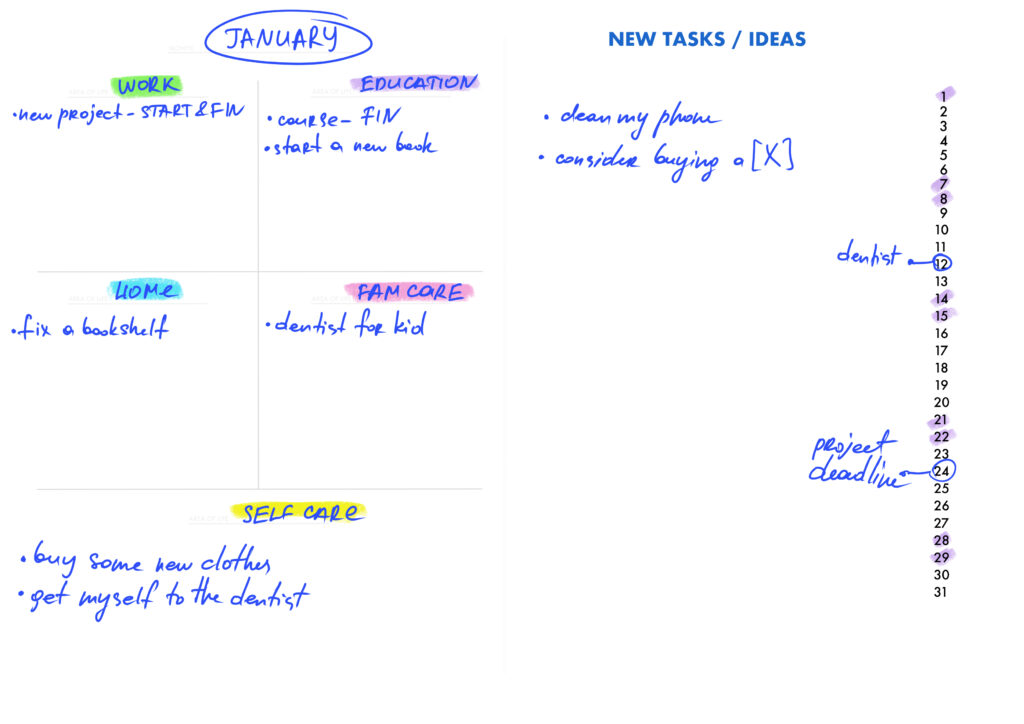 WEEKLY PLANNING TEMPLATE
This template includes undated days of the week (starting from Monday). Each day has a column which is divided into segments. These segments are hours of the day. Each day starts at 6 am and ends at 12 am. Each hour is divided into 4 segments which are related to every 15 minutes. Basically, you can plan every 15 minutes using this template.
My weekly template is copying Apple's Calendar Weekly view, actually. But besides blocks with hours, it also has blocks for daily notes, weekly to-do list and an additional block which you can use for writing down your thoughts, resolutions or ideas you had during the week.
Below you may see an example of how I would fill the template. Usually I use color coding here as well.
Before you start using this template for planning, you may use it for tracking your day and recording when and what you've done and how much time does it take to finish the activity.
MONTHLY REVIEW TEMPLATE
I use this template for writing down accomplishments I have made every month of the year. I find the practice of recording what I've done every month extremely useful. Because at the end of the year, when you may face an occasional episode of sadness that you have done nothing, you'll have proofs that you actually did great the current year.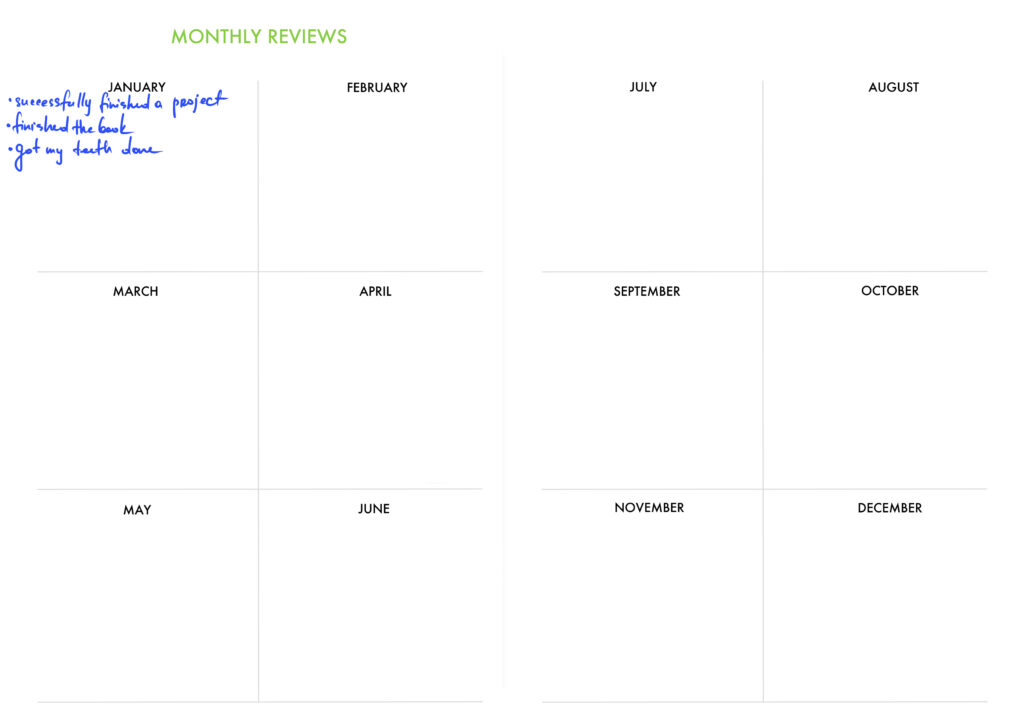 GRATIDUTE & ACHIVEMENT OF THE DAY TEMPLATE
I believe, it's a good and healthy habit to note down what you have done today, what you are proud of, what you can praise yourself for. However, sometimes there are days when you feel as if you've done nothing and as if you've been the laziest and the most unproductive person in the world. When such days happen, I recommend writing down what you are grateful for today.
This practice will help you to maintain a positive thinking and remain an emotionally stable person.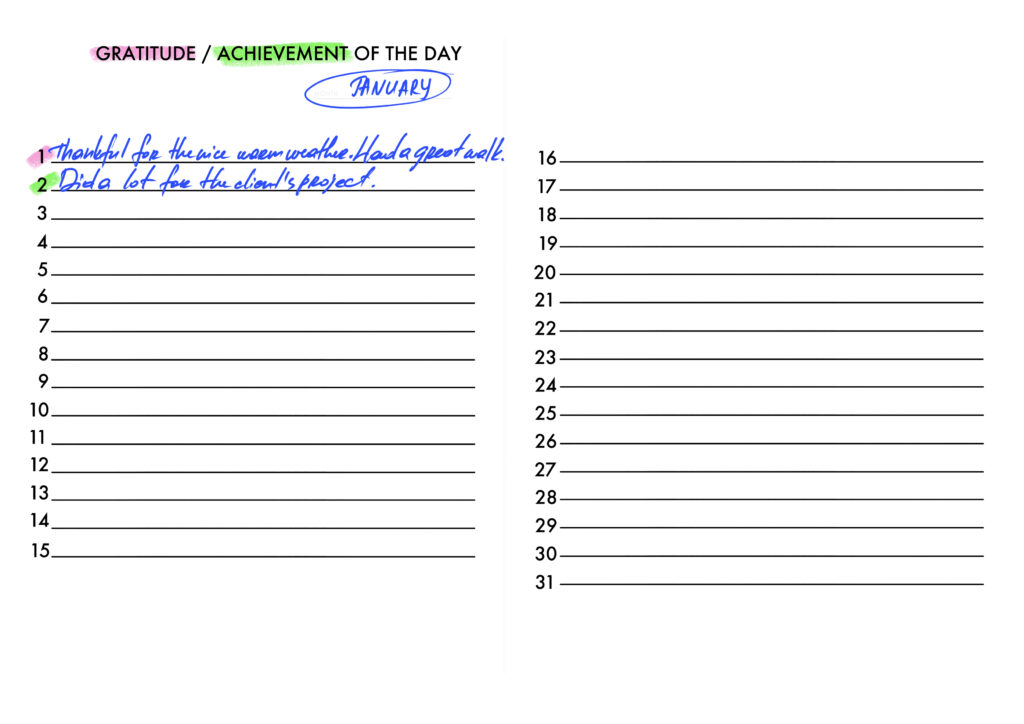 BALANCE WHEEL TEMPLATE
This template is a new template that I'm going to use for the first time this year, actually. By examining your life balance wheel regularly you can better control your life and, as a result, be more satisfied with it.
I deliberately didn't make any custom sections on the wheel in this template because life is dynamic and your priorities may change as well as areas of life that you'd like to keep a track on. Therefore, feel free to divide the life balance wheel into as many sections as you need. On the next page you may explicitly indicate actions you need to perform to restore the balance of your life.
Fill a life balance wheel whenever you feel it's time to do so and notice how your priorities change with time. It's funny to observe these changes 🙂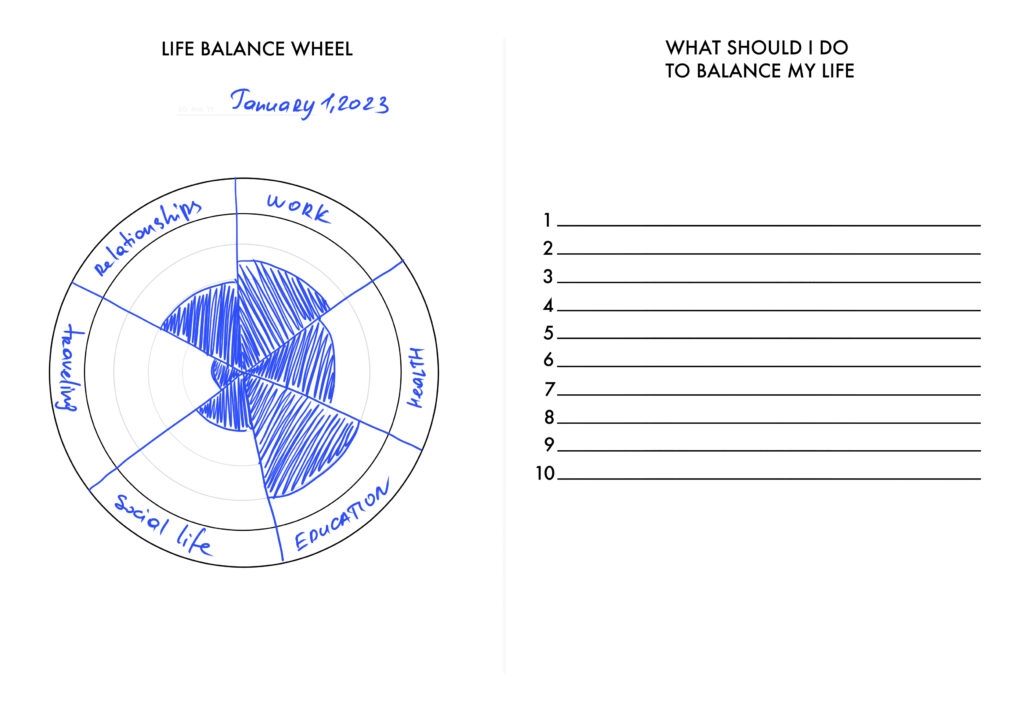 That's pretty much it. Thank you for reading the post till the end. If you've done so, you may be interested in another post I've written about planning – 6 PRINCIPLES OF PLANNING that help me TO STAY SANE even UNDER THE WAR.
Feel free to download clean planning templates in English or in Ukrainian here.
Feel free to use this material for educational purposes under the Creative Commons Attribution-NonCommercial-NoDerivatives 4.0 International License. For other uses please contact me through email business@nadinekovalchuk.art or contact form.
If you find inaccuracy or if you have a question, please let me know in comments or email at website[at]nadinekovalchuk.art