Planning became a life-saving ritual to me as soon as I became a parent. Overwhelmed with the new role, I sought for distinctness, stability and balance in time management.
Although, my planning strategy had been working pretty well for the past 2 years, I'm still seeking for work-parenthood balance and comfort living. Next year, which is going to be 2022, I decided to adjust my planning approach and build a yearly strategy which is supposed to cover all spheres of life that are important to me right now.
I invite you to walk through this planning process with me and build a personal strategy for the next year of your life.
3 STEPS TO MAKE A SUCCESSFUL YEARLY PLAN:
1) GET A GENERAL PICTURE // Define spheres of life that you want to balance
First, write down projects which you'd like to work on during the next year. Put on the list every project, from business to household, if you feel the project is important to you.
Then review the list and sort the projects under certain categories. These categories are going to be the life spheres you will be balancing next year. If you find yourself having a big variety of projects assigned under one category, do not hesitate to create more narrow categories within a wide one.
Here's the list of my life spheres as an example:
Self & Family Care
Personal Projects
Freelance
Education
The next step is creating a yearly road map. I suggest using a specific color per each life category. Color coding is a convenient and effective way to organize and balance projects flow on the yearly timeline.
In my case, I don't plan to have many projects in Freelance sphere. Thus, one row in the road map will be enough to cover the whole category. At the same time I do plan a lot of projects in Personal Projects sphere. For my convenience, I defined 3 subcategories (colored with orange and light orange color) in this category and used three separate rows to plan projects assigned to the subcategories.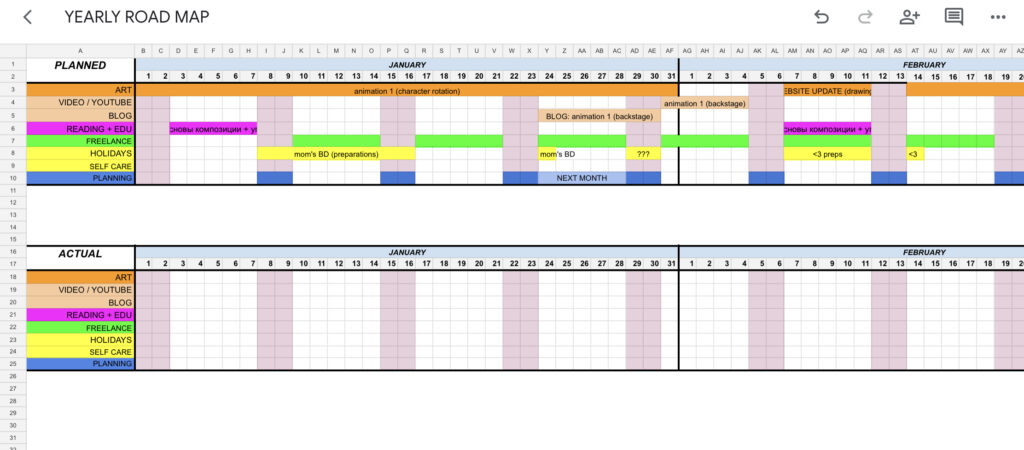 Of course, life is unpredictable. What you plan today may not be applicable tomorrow. However, my experience suggests that it's better to have a long-term structured plan which you can quickly adjust according to your new needs and circumstances.
Besides the filled road map I also recommend having an additional yearly road map template for recording the actual pace of progress you'll be making with your projects. Records of planned and actual progress will be useful for optimizing planning strategy in future.
2) SET SPECIFIC OBJECTIVES // Break projects into short-term tasks
After you categorized your projects and created the yearly road map, it's time to define short-term tasks and specific goals. Take every project and write down a list of actions you need to perform to finish each project successfully.
Once you have a task list, ask yourself "How many?" and "How soon?" questions. Let's pretend you want to write a book. How many pages per day are you going to write? How soon will you be able to write one chapter knowing your page-per-day pace?
Your goal on this step is to convert your abstract expectations into numbers. Numbers will define the exact amount of work you need to do to finish the projects and help to reveal whether you're making progress or not during the year.
When considering a deadline date of a specific task, make sure you set realistic end-date. It's better to double ETA for the project you're going to work on and finish it faster than overestimate your abilities and feel disheartened.
Give yourself time for developing the yearly plan. Start planning 2-3 months earlier before the current year ends and allow your objectives to transform as the time goes. Review your road map and short-term tasks from time to time till the end of the current year. If needed, edit them according to your updated strategy.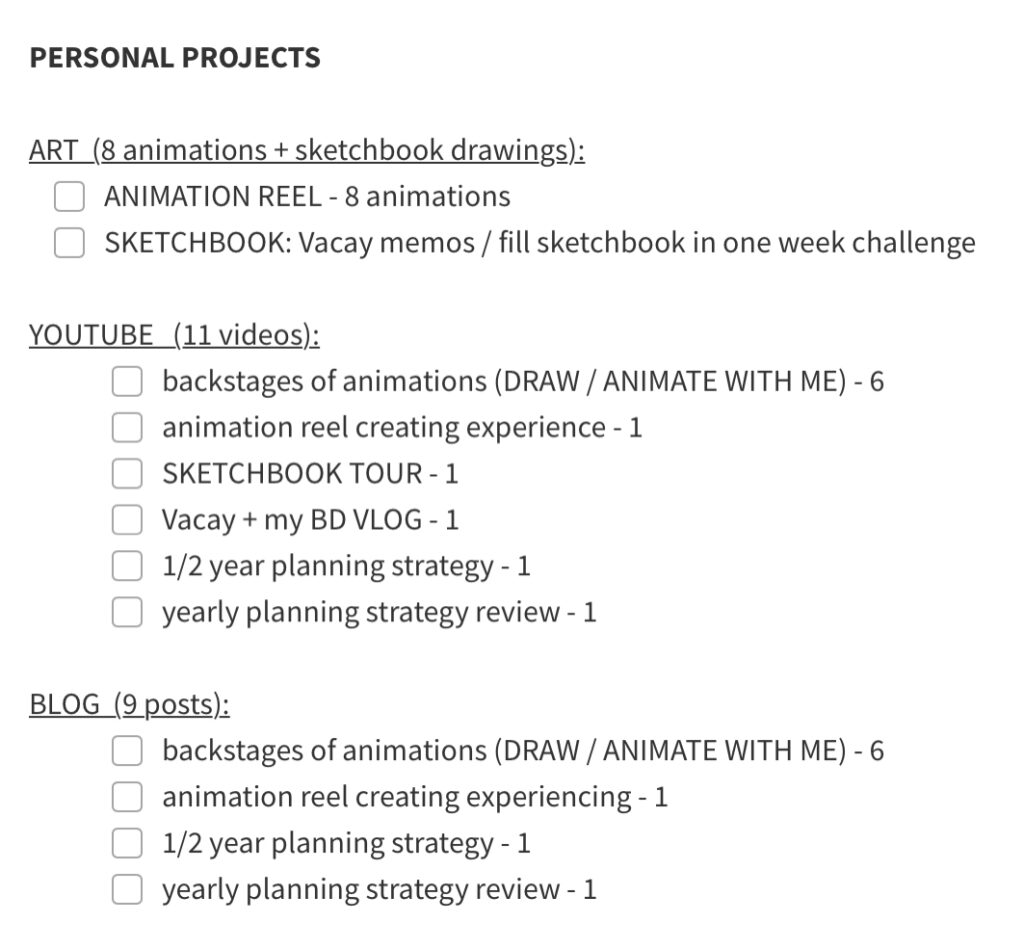 3) GO INTO DETAILS // Develop personal timetable

Working on the projects should become one of your day-to-day activities. 
If you don't have daily routine yet, give yourself at least a week to analyze what activities your day consists from. Find a pattern and develop personal timetable based on your lifestyle. Daily routine not only decreases the level of nervousness and anxiety but also guarantees that you'll definitely work on your projects because you've booked time for them beforehand.
Build a habit to do monthly, weekly and daily planning. Use the last week of the current month to plan the next month, weekend of the current week to plan the next week, 15 minutes in the evening to plan the next day.
When planning a month, choose a project from every sphere of your life to maintain balance. Per each project set 1 high-priority task and, at least, 2 tasks with lower priority. Try to accomplish prioritized tasks during the month and don't be hard on yourself if you don't finish less prioritized assignments. You can always move them to another month or decline at all, if they've lost relevance. Use the same approach for planning your week and day – define high-priority and low-priority tasks and do your best to finish at least high-prioritized ones.
Experiment with the planning tools. You should be able to check your plans during the day or to write down a fresh idea quickly. Wherever it is an app on your phone or a paper notebook on your table – planning tool makes sense when you can easily access it.
While I use apps for strategic and tactical planning, I prefer paper dairies when it comes to action planning. I like to have the whole week on a page spread with every hour of every day split into 15-minutes intervals. Such visual representation helps me to get the general picture of available time I have and allocate tasks without losing work-life balance.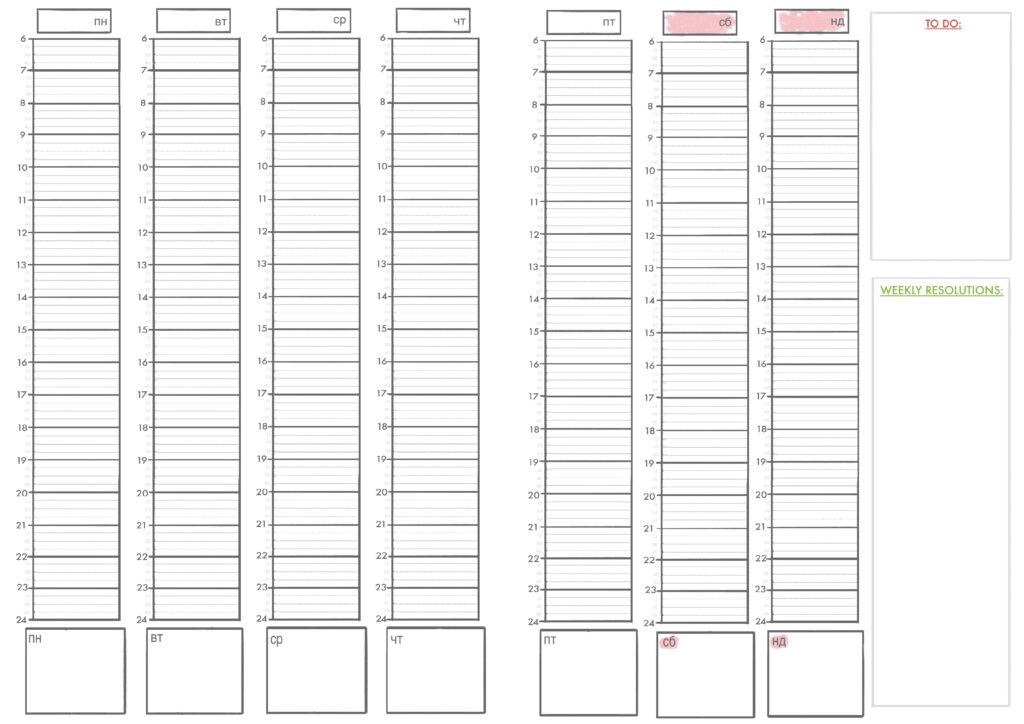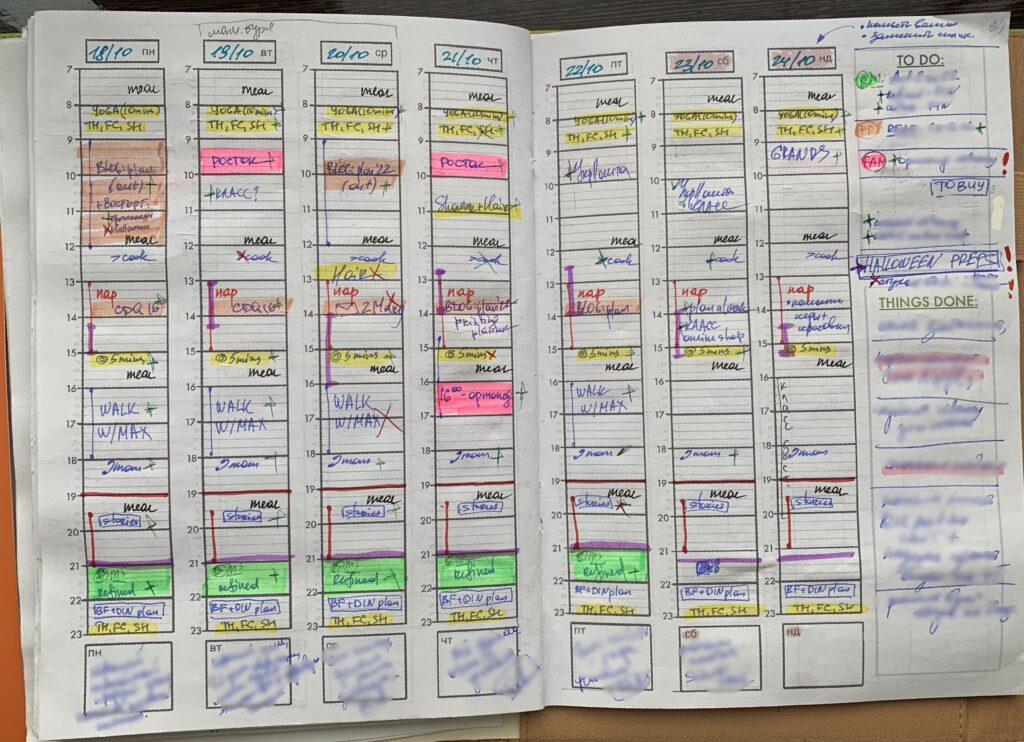 There's no right or wrong way to organize your time. The planning technique and tools you use to organize your day, week, month, year directly relate to your lifestyle. Get known yourself — when, during the day, you feel more productive and when you need to slow down and take a rest; which activities make you feel energetic and which ones help you to relax.
Try every method or tool you find helpful. Develop your personal templates and tools, if existing ones don't satisfy you completely. The way you organize your time and plan your projects is something that is developing along with your personality, thus, there's no end point of improvement.
Good luck!
Feel free to use this material for educational purposes under the Creative Commons Attribution-NonCommercial-NoDerivatives 4.0 International License. For other uses please contact me through email business[at]nadinekovalchuk.art or contact form.
If you find inaccuracy or if you have a question, please let me know in comments or email at website[at]nadinekovalchuk.art